With the new Batmobile, courtesy of director Zack Snyder.
I shot this with my @Leica_Camera M Monochrom. #Batman #Batmobile #Gotham http://imgur.com/3hRU6px  pic.twitter.com/p5DEf6fLzJ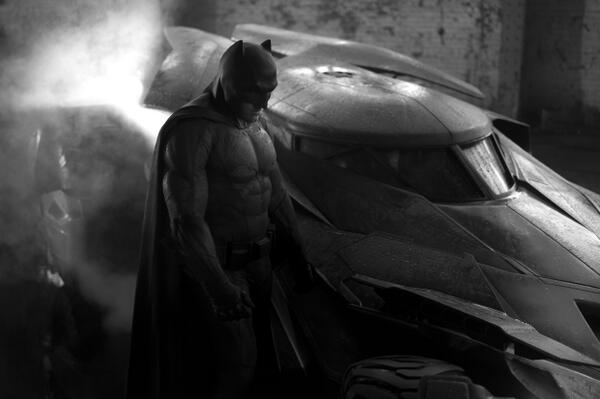 Yesterday, Zack Snyder promised us a better look at the Batmobile for Superman Vs. Batman (name TBC), but he's delivered a good bit more than that today, with our first look at the new Batsuit as well.
This looks like something of a return to the traditional sculpted offering rather than the Kevlar plates of Bale's suit (see how those evolved here). But it also has a moody, monochromatic quality that is closer to some of Nolan's films, or the dark animated episodes, rather than – shudder – the '60s TV show. Heck, even the logo isn't coloured. The cape and cowl, however, feel more old-school, and those neat little ears are almost a TV throwback.  And if that's Affleck in the suit, as the chin suggests, somebody's been hitting the gym even more than normal.
Thanks to someone helpfully lifting the shadows and tweaking the contrast, you can see more detail to the suit here, giving you a glimpse of Bat-belt and Bat-gloves. Of course, Snyder may have left the picture dark to cover up unfinished / provisional details, so these may be tweaked before 2016.
The Batmobile itself, meanwhile, also seems like a hybrid of Nolan / Bale's Tumbler and the sleekness of previous incarnations. Is that a huge back wheel, almost obscured by smoke, like a dune buggy? That would be a change. Let us know what you think below.
Superman Vs Batman (or whatever) will hit cinemas on April 29, 2016 over here, also starring Henry Cavill, Gal Gadot, Diane Lane, Jesse Eisenberg, Amy Adams and Laurence Fishburne.